Monday, 13 June 2011 |
Which planet are we on?
It's been four months since the release of the Productivity Commission's much awaited Draft Report 'Caring for Older Australians'. There appears to be two world views in aged care.
Read the Productivity Commission submissions. Listen to the discussions on radio and TV. Read the comments on media web sites. The organisers and providers of aged care seem to live in a totally different world to that inhabited by frail older people, the staff who care for them, their families and most of the community.
On the one hand, there are those who see aged care through the eyes of residents and their families. They see frail people who, too often, do not get timely care. They see harried and demoralised aged care staff who are unable to achieve job satisfaction as their work is never done.
On the other hand, we have providers, politicians and bureaucrats who seek every other solution to the problems except the very one which the sector needs - that is more staff on the floor, providing the care.
Which planet is the Productivity Commission on?
In spite of the large number of submissions outlining copious examples of system failures, the Productivity Commission's Draft Report largely ignores the critical issue of staffing levels in aged care. The main cause of failures in care is dangerously low staffing levels.
The moral imperative to provide compassionate care to vulnerable people is sadly missing in the Productivity Commission's Draft Report.
While acknowledging that the brief given to the Productivity Commission was primarily about how to fund and structure aged care as the population ages, Aged Care Crisis (ACC) is disappointed that the Productivity Commissioners have not addressed the critical issue of staffing and have not recommended that there be mandated, minimum staff/resident ratios in our aged-care homes.
Related links:
Productivity Commission's Inquiry Caring for Older Australians
Some submissions from family members and those who care for them:
sub034, sub005, sub041, sub043, sub056, sub058, sub059, sub081, sub084, sub085, sub091, sub092, sub101, sub106, sub107, sub109, sub112, sub119, sub135, sub146, sub239, sub248, sub253, sub284, sub295, sub297, sub330, sub335, sub340, sub346, sub359, sub368, sub370, sub371, sub380, sub415, sub421, sub433, sub435, sub450, sub470, sub475
Conclusion
ACC considers this to be a Draft Report which largely reflects the view of aged-care providers. It seeks to meet their market place needs. It gives little credence to the experiences of staff, residents and family members.
It does not give the community a voice and does not allow them an effective role in this market.
... The real consumer is the local community, whose social responsibility it is to care for their aged members. The care should be provided on their behalf and the social contract should be with them! ...
Choice? Would you like a glass of wine with that?
ACC is concerned that on Planet Productivity Commission, the prevailing themes of flexibility and choice have more to do with how profits are generated than how care needs are met.
The providers insist on 'flexibility' ... yet we all know that this is code for cutting back on staffing levels - leading to situations when one or two carers may well be left in charge of numerous frail older people with high care needs. In the Draft Report, the principal recommendations as to how care is actually delivered, relate to a greater (and welcome) emphasis on community care and a further emphasis on consumer choice.
While those who are able to receive care at home and remain within their local community may benefit from these proposed changes, it should be noted that frail older people who require residential care are seldom in a position to pick and choose.
Our primary focus in this eNews is on residential care, but many criticisms are also applicable to frail and vulnerable people receiving care in the community.
The Draft Report seeks to utilise market forces to drive reform. A successful market requires informed and empowered customers if it is to work. Frail aged residents and their families are ill equipped for this task and need greater support than any other market sector.
There is a grave risk that significant resources, including staff, will be moved to community services and to other more profitable options. Frail residents in residential care, those most in need of care, may well suffer further discrimination and disadvantage.
Furthermore, It is worth noting that, once in residential care, there is actually little, if any, real choice about anything at all.
... We spend all our lives choosing which hairdresser will cut our hair; when we go into residential care we must have our hair cut by the one hairdresser the facility arranges to visit. Worse, all the things that are most important to us are bundled into the hands of one provider - food, accommodation, daily health and hygiene, recreational activities. We pay fees to eat at the same restaurant three meals a day, seven days a week until we die ...

... Unfortunately we also know that quality of care changes greatly over time, especially if highly competent managers of a facility resign and are replaced by incompetent care managers. So consumers who make good choices at the point of entry are frequently stuck with poor outcomes ...
What the aged-care industry wants - not what the community needs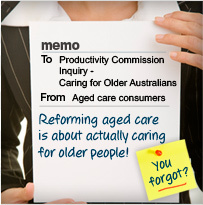 Some aged-care providers and their peak groups claim to represent the views of consumers.
Extensive correspondence received by Aged Care Crisis shows that what families want in aged-care homes is more care. They want adequate skilled staff to provide quality of life for their loved ones.
They wish to be assured that the physical needs of their loved ones are met, that all residents are being well fed and hydrated and that bedridden residents are turned regularly in their beds to maintain skin integrity and to avoid bedsores. They further wish to be assured that there is access to, and assistance with, hearing and visionary aids, that urine-soaked pads are changed regularly, that call bells are working and are within reach and that there is ample staff to assist mobile residents with walking.
It is also extremely important for the quality of residents' lives that staff have the time to talk to residents, even when they cannot respond. This is their home and often staff contact is is the only regular human contact they receive. And most importantly, all of us need to be sure that vulnerable frail elders, who very often cannot speak for themselves, receive full protection.
The Draft Report does not advise the compulsory disclosure of care acuity or staffing structures in aged-care homes. In the absence of compulsory staffing ratios, this is the most critical information that any family will need in making a care choice.
The Draft Report recommends a "One Stop" source of information and advice for consumers of aged care. While this is a step forward, the community will have little, if any input, into what information is provided, or control over how it is generated. This undermines its legitimacy and largely negates the benefit.
What would really assist families who are seeking care for their loved ones is independent advice from knowledgeable individuals who are regular visitors to the aged-care homes they are considering. This, the Draft Report does not give them.
Accreditation Grant Principles 2011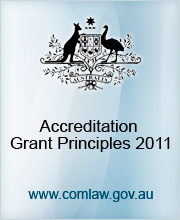 While the DOHA Report on the review of the accreditation process has not been released, the Accreditation Agency is now changing the way it operates. Most aged-care consumers would not be aware of the updated Accreditation Grant Principles 2011 (effective 20 May 2011) - which herald substantial changes in how the Aged Care Standards and Accreditation Agency (The Agency) operates.
The Agency adopts a legalistic framework claiming that its primary role is to support and assist the providers in their efforts to improve care. It works with them - rather than with the community. It is emphatic that
it has never been, and is not, a regulator and that this role lies with DOHA. It is clear to ACC that the agency has been and remains an integral part of the regulatory process.
It is hard to fathom whether these changes are a step closer to addressing the inherent conflict of interest between accreditation and oversight - or an opportunity to decrease the oversight and protection of vulnerable, frail people in residential aged care.
Some of the changes include:
Residents must be informed 21 days before a visit is to take place, and the facility must display the Agency supplied poster in a prominent place
Self-assessments are no longer required as part of the application for accreditation
Desk audits have been replaced with desk assessments - and performed by phone
Approved providers can no longer nominate assessors for site audits, however, approved providers can object to members of the assessment team
The Agency will no longer recommend sanctions to the Department of Health and Ageing
Assessors do not recommend whether to re-accredit or not, the accreditation period, or the form and frequency of future assessment contacts. Assessors simply recommend whether the home meets or does not meet the expected outcomes
Enforcement of regulations will be strictly the role of the regulator, and not the accreditation body
The Agency must interview at least 10% of residents at review audits as well as re-accreditation audits
There has been a substantial reduction in the Accreditation Grant Principles. The new Principles are 46 pages in length - compared to 66 pages for the previous version.
The regulation of aged care in Australia - relaxed or missing?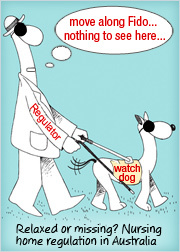 The regulation of aged care is the mechanism whereby the public develops trust in the system. Confusion about how regulation occurs and who takes responsibility for it makes this trust hard to achieve.
ACC believes that the Productivity Commission's focus on opening up aged care to greater market forces, and at the same time reducing oversight, will compromise residents' rights and impact adversely on care.
With the expectation of an increase in older Australians needing care, the need for transparency, accountability and disclosure is greater than ever. However, there is little evidence that this will occur if the recommendations of the Draft Report are implemented.
Many submissions made by aged-care providers to the Productivity Commission place great emphasis on their desire for less regulation. They press the Commissioners to move further towards an open market.
... It is felt that there is potential for further movement towards a more market based approach and relaxation of regulation and compliance functions...

... In the proposed future system where care recipients have an entitlement and potentially more flexibility to move between providers, any breakdowns in quality and safety with a subsequent decline in reputation in the community would see providers occupancy levels fall and therefore they become unviable ...

... Therefore, there is scope for reduction in external regulatory involvement in providers operations following a 'non-compliance event or notification' as the market will have a stronger influence over whether they continue to be viable or not. ...

Submission: Baptist Community Services - NSW & ACT [Page 4]
Productivity Commission Inquiry Caring for Older Australians.
From humanitarianism to markets - not-for-profit nursing homes (Dr J.M. Wynne)
This web page looks at the not-for-profit sector in aged-care homes. It comments on the shift from a caring humanitarian system towards an impersonal service focused on economics. It gives some examples of failures in care.
Show me the money!
Technical papers released by the Department of Health and Ageing (DOHA) on 24 May 2011, prepared to assist the Productivity Commission's Inquiry Caring for Older Australians, gave a detailed analysis of the aged-care sector and provide an interesting perspective on the cost, revenue and productivity trends in residential care.
It is not all doom and gloom as many within the sector would have us believe. Significant profits are currently being made by providers:
... On average over the six year period to 2008-09, revenue growth exceeded cost growth by a very comfortable margin after allowance for improvements in labour productivity. The improvement in net revenue for low care and mixed care providers has been significant, but more moderate for high care providers (given less exposure to accommodation bonds) ...

 ... growth in revenues received directly from residents for all homes which has generally remained well above CPI growth over time. Resident contributions have been growing strongly over recent years, with overall growth of 7.6 per cent over the year to June 2009 across all homes. This includes very large increases in revenue per bed day from accommodation charges (17.7 per cent increase) and accommodation bonds (17.0 per cent increase) ...

Technical Paper on cost, revenue and productivity trends in residential care [Pages 28, 23-24]
prepared to assist the Productivity Commission Inquiry Caring for Older Australians
by the Department of Health and Ageing, December 2010
This dispute reaffirms the findings of the Senate Standing Committee on Finance and Public Administration in 2009, to which DOHA made similar claims. The report states:
Chapter 3: Nationally consistent aged care data
3.33 Whilst there are a number of bodies who conduct surveys on performance in the aged care sector, much of the research is conducted by private companies which offer their analysis for a fee. Therefore, their data may not be publicly available, and rather, has to be purchased as part of a commercial-in-confidence arrangement between the body in question and the purchaser.

... The committee is also concerned that different methodological approaches which utilise different indicators and employ different definitions do not lend themselves easily to comparative analysis. Moreover, where such data is not publicly available, public scrutiny and discussion across the sector is all but impossible ...

Residential and Community Aged Care in Australia Standing Committee on Finance and Public Administration
The truth is that no one has the information needed to assess the funding situation properly because of the lack of accountability consequent on the acceptance of 'commercial-in-confidence' in aged care.

Want to learn more? Then subscribe to our Newsletter.
Newer articles:
Older articles: