| | |
| --- | --- |
| Transparency, Accountability and Disclosure | |
Thursday, 30 April 2009 00:00 | Print page:
The need for: Transparency, Accountability and Disclosure in Aged Care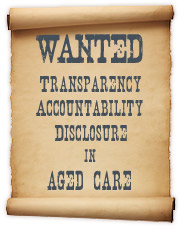 The Aged Care Crisis Team (ACCT) firmly believes that consumers are entitled to access current and past information about government funded aged-care homes.
This is currently not the case.
Frail older people are one of the most vulnerable groups in society and their protection should outweigh all other considerations.
In order to achieve this protection, community members must know what the aged-care providers are capable of when no one is watching - not just when they have been given time to prepare for an inspection. And not simply after providing a response to an adverse finding in order to stay in business.
The Minister for Ageing, Justine Elliot, recently announced a new initiative to publish information about sanctioned and non-compliant homes online. The ACCT does not believe that this proposal goes nearly far enough.
We note that the proposed initiative will only carry information relating to the previous year. Some of this material, along with older material, is already available online. We fear the new regime will not include all of this material.
(see: archived sanctions).
Is this really an improvement?
In order to achieve true accountability it is essential that all information about publicly-funded aged-care homes is available to those families seeking care for loved ones and to those researching the sector.
As far as ACC are aware, there is no public disclosure of those applying for approval status in aged care.
The community are not encouraged or given the opportunity to object or supply information.
Legislation will not work to filter out unsuitable operators unless the public is given the opportunity to assist the process by collecting and supplying information for the department to evaluate. It is therefore essential that there be total transparency in regard to owners and operators and that both be made readily available to the public in a timely fashion by placing it on a web site. There are now active aged care advocacy groups in each state. They would welcome the opportunity to assist assessors and to argue a case against questionable operators and owners.
Despite amendments made to the Aged Care Act 1997 in late 2008 which seek to place greater emphasis on assessing the suitability of owners, the ACCT doubts its effectiveness in creating full transparency, accountability and disclosure.
Recent case study example: April 2009
Probity requirements were removed from our Aged Care Regulations in 1997.
The Department of Health and Ageing makes proud claims that only "suitable people" are approved to provide aged care.
How, then, does it account for a provider who has, allegedly, short-changed her staff, whose homes have failed accreditation standards, who did not pay her bills and who, it seems, transferred millions of dollars from her almost bankrupt aged-care homes to a soccer club.
How did this provider get and maintain approval since 2000? 
Are there other "suitable providers" like this?
Excerpts from The Herald Sun [21 April 2009]:
...A WOMAN transferred $2.5 million from her aged care business to a soccer club in a misguided attempt to secure it a national A-League berth..."

"...Documents seen by the Herald Sun show her company, Kendalle Pty Ltd, owes $10 million in accommodation bonds, $2.6 million in employee entitlements and $3.3 million in unpaid taxes. It has an outstanding ANZ loan of $5.6 million and owes $600,000 to trade creditors..."
In 2000, Kendalle was the approved provider of 
 Rowena Private Nursing Home 105.69 Kb.
Staff working at Rowena Private Nursing Home at the time allege:
Staff entitlements, including superannuation, were left unpaid
The Australian Taxation Office was contacted as early as 2004 and involved in recovering thousands of dollars in superannuation owed to staff.
From a staff member:
"...I regularly fielded calls from food providers, nursing agencies etc, re Rowena's outstanding accounts in the time I worked there... Several agencies refused to provide further staff until bills were paid...eventually, Kendalle sold Rowena and purchased three more nursing homes..."
The Department of Health and Ageing's ability to vet the suitability of aged-care providers in an ongoing manner, and then act on it, seems to be restricted by the details and complexity of legislation. It should not be this hard. Information should be readily available to the public so that families can act accordingly and so that researchers can document important care issues for public scrutiny.
Other recent collapses and revocations also demonstrate patterns of failures in aged care.
Currently, there are reports suggesting further scrutiny on aged-care providers who use bond money to cover operating losses or divert money to non-aged care uses. Too late for the residents and staff of defunct homes. However, the ACCT waits with great interest to see how this might be accomplished.
Fast forward to June 2009
Due to a range of government policy and failures, both residents and staff were let down badly - yet again.  Reports surfacing of a company that failed to lodge tax returns for several years, money owing to the ATO, etc., suddenly surfaced in the media.  ACC still find it difficult to understand why the Department failed to pick up on previous failures approximately 5 years ago?
A last ditch appeal by a resident of the failed Gracedale nursing home on YouTube, failed to stop the government closure of Kendalle owned nursing homes.  Not many people think of the impact these types of actions can cause to the health and well-being of old, frail and vulnerable residents.  The residents had also grown fond of their carers - and they to the residents. Media allegations included some frail residents had died prematurely because of the sudden move.  It was distressing to see the residents and staff on camera so obviously upset by this turn of events.
Information accompanying the video on YouTube (31 May 2009):
Through a debacle allowed by the Australia Taxation Office (ATO, over 18 months), the Australian Securities and Investment Commission (ASIC over 6 years) and the Department of Health and Ageing (over 3 years), a private Aged Care Facility Operator in the State of Victoria has made inappropriate use of some $10 million of Government guaranteed accommodation bonds.

Now the Health Services Union, the ATO, and the Australian Nursing Federation calling themselves creditors, have placed the company under an appointed administrator and are proposing to liquidate the company at a creditors meeting to be held on 11th June 2007.

Meanwhile 58 aged residents are being asked to vacate their homes and relocate within as little as 6 days and 36 staff have very uncertain futures.
More information:
Government and nursing homes in Australia
It is the Australian government which has turned aged care from a caring professional activity into a profi-focussed and competition-driven market in which the culture of care in aged-care homes is replaced by one of apathy and disinterest. The story of aged care in Australia is best examined by following government policy and practice over the years. This web page gives an overview of what has happened. It links to web pages which explores successive periods and the behaviour of the aged care ministers responsible.
Inquiry into Aged Care Amendment (2008 Measures No. 2) Bill 2008:
Submissions:  Dr J M Wynne;  Aged Care Crisis;
United States Senate - Special Committee on Ageing Hearing: Nursing Home Transparency and Improvement
Submission:  David Zimmerman, Professor and Academic Director of the College of Engineering, University of Wisconsin, Madison, WI 
Newer articles:
Older articles: