It's time.
Time to make aged care accountable.
Accountable to who?
To citizens and their communities
---
Please support our campaign to make this happen
Aged care has been a mess for 20 years and a Royal Commission into aged care has described widespread neglect and abuse.
Industry groups are lobbying government hard to support the sort of changes they want. These are not in the best interests of Australia and its senior citizens.
They are trying to steal the reform agenda from under our noses. We need to look closely at who they are, what their record is and what they want.
What has been happening?
For the last 20 years we have had an industry-led aged care system, supported by government.
As a community, we have had to accept their dominance and trust them. That trust is in tatters. Between them, they have neglected and abused our parents and grandparents, concealing failures, then lied repeatedly over the entire 20-year period. This is not how a democracy works.
Residents and families fear retribution and nurses fear for their jobs. Nurses have spoken out about what was happening and have been fired for doing so. Families who spoke out have been threatened with legal action. Researchers who described what their research revealed have been attacked and discredited.
Failures have been so bad and have occurred so commonly, that those responsible must have known what was happening. Yet, for the last 20 years we have been told that we have a 'world class' system with 'world class' regulation and isolated failures were due to a few bad apples.
We were lied to. We were deceived.
Who was responsible? Who has been lying to us?
First, both major political parties' policies are deeply flawed and instead of fixing problems, they have lied and misled us.
Second, the aged care industry has presided over neglect and abuse and hidden that from us. Its reputation is in tatters. They must have known. They were not only complicit, this was the system they wanted and they helped design it.
Both political parties and industry know fixing this will take time. There will be more failures and the public is weary. They want this hot potato back in the cupboard with their other skeletons as soon as possible because there is an election on the horizon. They will opt for a quick fix to get it out of sight again.
Urgent action is needed, but opting for more quick fixes is not in our communities or our citizen's best interests. We need a path to a permanent solution.
We must stop politicians and industry from putting aged care back in the cupboard. They must involve us so that we know what is happening.
Aged care industry's strategy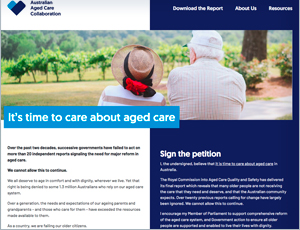 As caring citizens and communities, it is our responsibility to see that our parents and grandparents are well cared for. Providers of care need to be directly accountable to the communities they serve, rather than some distant and impersonal out of touch government body.
What they should be doing is inviting communities to the table and then working with them to provide the sort of care they expect their family members to get. Instead, industry has rallied to form a new group called the 'Australian Aged Care Collaboration' (AACC) which is planning to restore their tarnished reputations by marketing at citizens.
The AACC has launched a marketing blitz to persuade the public to support the quick fix wanted by the industry. They are exploiting politician's desire to get this out of the public eye and are lobbying hard for more money.
As part of their campaign, the AACC has prepared a report titled "Time to care about aged care" which describes the Royal Commission's findings and inadequate funding by government. They highlight the 31 inquiries that failed to resolve the problems but importantly, do not explain why they failed. They make it clear that they did not have the money to provide the care needed, but that is only half the story.
They are trying to shift their share of the blame to government and in doing so, hiding their responsibility for neglect and abuse.
Their campaign website and social media presence 'Care About Aged Care' is asking the public to sign a petition to their elected members supporting industry. Those signing the petition don't really know what they are supporting. They are lobbying behind the scenes by meeting with politicians across Australia.
They are still deceiving us and we must call that out urgently.
What they are frightened of
The one thing industry and government don't want, is independent local citizens from communities looking over their shoulders to see that their older fellow citizens are well cared for. The last time this was proposed, they derisively called it the 'community busybody scheme'. Clearly that is exactly what is needed.
A good 'busybody' scheme would make providers accountable to the community they serve. This is what is needed and it was first recommended in the 1980s. Since then, both political parties and industry have promised accountability and then connived in avoiding it.
They are frightened of citizens and of being accountable to them.
The real story
The real story is that this is industry's system. They have worked closely with government since 1997. They are well represented on government bodies and have been charged with responsibilities including oversight of accreditation and complaints. They are equally guilty but do not want to admit it.
In 2014, industry received a windfall of additional funding through the Living Longer Living Better (LLLB) reforms, but that money did not go to care or staffing. Industry used it to build ever-bigger empires. Large profits were made and the lavish lifestyles of owners and senior executives featured in the press.
In 2016, government were forced to crack down on extensive rorting of the system. In its enthusiasm to compete, industry overspent on expansions and was left with large debts. Some are now in real financial difficulty. With so many residents in their care, we have no choice but to rescue them, but this must be on the community's terms and not theirs.
The system that neglected and abused senior Australians was the one industry designed. If industry want more money, there must be full accountability for how taxpayer's funds are being spent.
What should we do?
Aged Care Crisis has been watching this system for many years and has made large numbers of submissions to inquiries. For the last twelve years Aged Care Crisis has been pressing unsuccessfully for a community-led system and suggested ways in which this could be done. Others have pressed for similar changes.
The Royal Commission has exposed 20 years of widespread neglect and abuse by the market-led system. It makes multiple recommendations for more money, more training and more regulation, but it still leaves us with a market-led system that is not accountable to citizens.
What citizens need is a community-led aged care system where our communities decide what happens. They need a system where government and industry is directly accountable to them. In a democracy, government's prospects should depend on supporting citizens and communities, not wealthy businesses.
We should use our collective power to insist on a community-led aged care system
Help support our campaign
We ask you to support greater accountability of aged care to our communities so that we can work together to protect our parents and grandparents from neglect and abuse.
We also call for urgent action and increased funding, but demand that it be accompanied equally urgently by adopting and commencing a policy of working together with regional and local governments and their communities. There should be full accountability to them for how taxpayer's funds are being spent and the quality of care provided.
After years of neglect, communities need help and support from their governments if they are to create local or regional organisations that will work with local aged care providers to ensure that they provide the services expected by the communities. This should not be delayed.
This would ensure that each community and its members know exactly what is happening, can help their members make informed choices and ensure providers are held accountable for the services they provide. This will take time, but we cannot afford to wait.
You can support this campaign by:
Understanding what a community-led aged care system would look like and expect from citizens and then completing our survey to show your interest and support.
Sharing a link to this page
Reaching out to politicians and letting them know you want to be heard
Sharing your views and experiences with us
Sharing our posts and messages widely and on social media platforms, eg, Twitter
A community-led aged care system
A community-led aged care system is a system where community takes overall control of and responsibility for care and:
works closely with the market and government at a community level, drawing on their expertise.
selects providers it needs and wants and puts those who don't meet their expectations out of business.
persuades other members of their communities to vote against governments who don't do what is required to provide good care to elderly citizens.
A community-led aged care system empowers communities to hold both providers and government to account and prevent more neglect and abuse in the future.
In such a system:
Government decentralises management and integrates aged care through independent regional and local officials. It employs people from within the communities served to carry out its activities.
Community groups drawn from local communities become involved in aged care. They utilise the time and resources of healthy retirees and other interested volunteers. They play an important role in many of the basic support and oversight processes of aged care, like complaints resolution.
The community groups would work closely with government employees and with local providers. They would meet regularly and the community participates in decisions.
Each community participates in planning the sort of services and facilities needed in their community and does not leave it to those who just want to build something that is profitable rather than suitable.
It works with regional managers in contracting the construction of facilities that are needed. 
It participates in the selection and licensing or contracting of providers to deliver the care required.
The community would be in a position to decide whom they will trust to provide services to their parents, grandparents and then themselves before they are licensed or contracted.
The Community would be actively involved with local providers in watching over care, handling complaints and addressing issues so would know what was happening.
The community would be in a position to easily replace a provider who fails to deliver the care they require. The current system would be restructured to make that possible.
The community organisations would have a central body representing them and putting their views to central management, government and bodies representing other groups.
If you would like more detail about how this might work, please read the web page explaining why such a system is needed and how it would operate. We illustrate how it will empower communities to hold both providers and government to account and prevent more neglect and abuse in the future.
Learn more: Creating a community-led aged care system
If you are time-poor but want to support this campaign, please complete our Accountability Survey. If we are to succeed in making aged care more accountable to citizens and communities, we will need strong support from them.
Learn more: Take our Accountability Survey.
Understanding community-led aged care better: We have prepared a number of more in-depth web pages where we explore these topics. You can look at the short summaries provided further down the page. If they ring a bell with you, please use social media to engage your friends.
These summaries support our argument that the Royal Commission has failed to fully address the deep problems in the system and the power imbalance created by them. The many good recommendations they made will not work for long because they have not addressed the real causes. We explain why citizens need to take further action to address these issues by pressing for aged care to be community-led rather than market-led.
These linked pages are for those who would like to:
gain a greater understanding of what has been happening and why we should replace the market-led system that the Royal Commission into Aged Care and the government still want. and
understand why it is so important that we challenge this and insist that it be replaced with a community-led system and why there is only a narrow window of opportunity to do so.
More information
These topics are summarised briefly above each of the collapsible panels below, linked to pages that explore the issues in more depth.
This section describes the basis of our Accountability Report shows how industry is trying to seize the high ground and the role they played in designing and supporting this failed system.
Accountability Report: Challenging the Australian Aged Care Collaboration
The report directly challenges and refutes the claims made by the Australian Aged Care Collaboration (AACC) in its report and its campaign.
It describes the difference between market and community led systems then briefly explains the claims made in the AACC report and their denial of culpability.
It describes the extensive involvement of the industry with government in every step of the development of this system. This was their system and nothing was done without their approval. They supported all of the reforms that did not work and failed us all.
Unhappiness in the workplace: The page then describes how the different approach by an industry-led aged care service creates cultural conflicts that lead to unhappiness among staff and so poor care.
Provider types and the AACC: The page describes the different types of provider, and the organisations that have formed to represent them. It describes the way that religious and charitable providers responded and adapted to a market-led system and competition from those who were there to make a profit. It shows how much they have changed as they adopted the same patterns of thought..
It describes how industry group ACSA and the religious providers have now become the public face of the AACC.
Learn more: Check out our

Accountability Report
This section describes the root cause societal problems responsible for failure in aged care as well as many other vulnerable sectors. Aged care is only one of many failures and part of a wider problem.
Why society has failed the elderly: The consequences of policy failure
On the linked page we outline the root cause, the social disease, responsible for many market failures in vulnerable sectors. This disease has developed in society as its relationship with markets and government was changed. Aged care is simply one of the worst affected.
The page describes the changes that have occurred over the last 30 to 40 years in society, in governments and in markets and in the way they relate to one another.
Civil society, once the bedrock of our democracy and the protector of our rights was for some strange reason seen as a threat to both our democracy and our rights as individuals. Markets and government have pushed it aside and formed an alliance that puts them above the society they belong to and should serve. Civil society has a vital role in democratic societies. The huge consequences of doing this have been ignored.
The many warnings that predicted what would happen were ignored and the many systems that have failed have been treated as isolated problems. Attempts are made to treat the symptoms in each system while the root cause, the underlying disease in society has been ignored. Untreated it has recurred after claimed 'reforms' and spread to other sectors which have failed (eg. banks to aged care).
A success story: Doctors in Australia recognised the problems in the 1990s.  By uniting they were able to challenge government policy and then put those health care corporations that transgressed out of business. An example that we are urging our communities to follow.
Why it is never challenged: The page explains why it was so impossibly difficult for the over 30 inquiries into aged care carried out by believers in the market-led system to challenge the market-led system they had spent their lives working in and even discuss the possibility of a community-led one. We think the Royal Commission had the same problem.
As a consequence, symptoms were treated sometimes with good palliation but the disease persisted and soon recurred.
This is a longer and more in depth page, which quotes from the believers who adopted the system as well as those who saw the consequences, warned and were ignored. Most should get the gist of it.
Learn more: Why society has withered: The consequences of policy failure
This section describes our premonitions, our warnings and then our experience as we tried to persuade the Royal Commission to look at root causes and then make structural changes that empowered communities - the important things they did not do.
An opportunity missed: Aged Care Crisis attempts to persuade the Royal Commission
On the linked page we set out our position on the issues by summarising the arguments made on the web page 'Why Society has withered'.  We conclude that the root causes lie in problems that have developed in the relationship between the different components of society.  Society and government have been eroded and become subservient to markets.
We suggest that the Commissioners have not addressed these issues and as a consequence they are treating the symptoms of the social disease responsible (palliation) but not the disease itself which is likely to recur in time.
Our submissions: We were worried that a government that saw this primarily as a market and not a community service, would appoint credible market experts as Commissioners to address market issues rather thanindividuals with wider expertise who could address this as primarily a failure of a community service.  We  describe our unsuccessful effort to influence this.
In our submissions to the Royal Commission we challenged the Royal Commission's failure to confront the deeply flawed policies and the philosophy that supported it
We blamed the failures on a market-led system that placed the market above the society it claimed to serve and denied them a role. We urged a decentralised but centrally mentored and integrated management and oversight structure.
Our submissions stressed the need for greater community involvement and control, and made suggestions for doing this. We include short quotes from some of our submissions and letters to illustrate the arguments we made.
The Commissioners did not challenge or analyse the role of the market-led system or discuss any sort of community oversight or control.  We conclude that while the final report made many important recommendations it did not address these root cause issues and it remains market-led.
Learn more: An opportunity missed: Aged Care Crisis attempts to persuade the Royal Commission
In this section, we analyse the Commissioner's main recommendations and give an overview of its report.
An opportunity missed: Analysis of the Royal Commission Report
On the linked web page we summarise the main features of the Royal  Commission's final report released in February  2021.
The Royal Commissioners recommended many sweeping changes in a seven-volume report and, if fully implemented by government, there will be many beneficial changes. Critically it aims to enshrine the right to good quality care for every citizen as a fundamental principle in a new Aged Care Act.  It is going to be very costly.
They do recommend a greater regional management presence and encouraging feedback from recipients of care and communities. There is not much specificity in their proposals.  
Regional managers may not be sufficiently independent.  Citizens and Communities will not be empowered.  We think that it does not go far enough and unless we seize the opportunity and build on it, the power imbalance and the powerful perverse incentives in the system will not be adequately addressed.
We document the many issues covered and the recommendations, many of which we agree with. There are problems in others.  We make comments and indicate where we think a community-led system would have been preferable and would work better.
It is not what they recommended as much as what they failed to address and did not recommend that concerns us. The report made a very good job of identifying the symptoms and its measures should give good palliation.  But the underlying disease persists.
It remains a market-led system eager to forget the past.  Communities will not have the power needed to hold anyone accountable.  The same perverse commercial pressures will gnaw away at the increased regulatory effort they recommend and find ways around them.  
We worry that we will see a recurrence within 5, 10 or maybe more years.  We believe that if the community unites and presses hard enough for a community led system this can still be accomplished within the overall structure of the new system.
Learn more: An opportunity missed: Analysis of the Royal Commission Report
---
Update - May 2021: Financial Transparency Inquiry
Aged Care Crisis made submissions to the Inquiry into the proposed Aged Care Legislation Amendment (Financial Transparency) Bill 2020. We gave evidence at a public hearing of the Senate on 14 May 2021. There are two documents which are of more interest and relevant:
Response to Questions On Notice
We were asked to respond to Questions on Notice and our response has been published.
First we were asked how effective both the transparency legislation and the government budget support for aged care would be?
We explain why the legislation and budget will help but fall a long way short of the major structural changes needed. We quote from others who have written about this.
Secondly we were asked what could be done about the webs of related party transactions that most big aged care providers now employ?
We explain the central role their use by private equity and other large groups have played in diverting money from care to profits in the USA, the UK and Australia. This has been at the expense of the residents who needed care. This is a problem where regulation has failed but which a community-led system would address.
Learn more: Aged Care Crisis response to Questions on Notice